IT'S HERE!!!!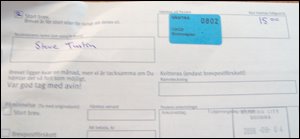 Well it's in the city. My
EBBP parcel
. I just can't go pick it up for another 3 hours. Oh the suspence!!!!
It says it's from Steve Tustin so I'm guessing it's from
this Steve...
am I right am I???
My grief is that the packages arrived so far has all been sent on the 31st and mine was embarassingly sent on the first and she told me 4-5 days it'd take, so today? Or tomorrow, if that country gets post delivered on saturdays, otherwise not until monday which sucks!!! It's as much fun to see how people react to your packages as you anticipate your own!